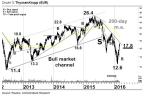 Foto: www.commerzbank.de
The attraction of the fallen angels – Technische Analyse Spezial vom 15.03.2016

15.03.2016, 15:22 |

980 |

0

|

Anticyclical buys with Rio Tinto, Total, ThyssenKrupp and Aurubis
The Stoxx 50, the Euro Stoxx 50 and the DAX are in a technical bear market with price losses of c. 30%. From a technical perspective, there are two basic strategies on how to make new investments in a bear market. On the one hand, the focus is on technical quality, which would apply to stocks with an unchanged intact upward movement such as those presented recently with the 'nine technical rocks'. On the other hand, a – somewhat more speculative – anticyclical strategy ("the attraction of the fallen angels") is also interesting. This relates to stocks that have been under price pressure for some time already and have incorporated many technical risks. In the (Euro) Stoxx 50, this applies for example to UK mining company Rio Tinto and France's oil and gas company Total. In the DAX, an example here would be ThyssenKrupp, while an MDAX stock would be Aurubis.

Rio Tinto: Multi-year bear market about to end
UK mining company Rio Tinto has been in a general bear-market movement since May 2008 – starting at c. 5920 GBp. From the beginning of 2011 and a price level of around 4717 GBp, the stock has been in a multi-year sideways pendulum movement with a negative touch, with a multi-year, staggered support zone emerging from 2580 to 2650 GBp. In July 2015, the stock slid through this zone with a general sell signal and the bear market thus continued at an accelerated pace. This accelerated bear-market trend only ended at the turn of January/February 2016 and entered an overbought situation at prices around 1557 GBp. In the past few trading days, Rio Tinto has experienced a strong price rally of a scale not seen for some years. Consequently, the price for this stock is now likely to settle above the 100-day moving average (currently at c. 2000 GBp) and Rio Tinto has a technical chance of entering a bottom formation. It should be noted that despite the bear market Rio Tinto has defended its membership in the Stoxx 50 – unlike sector competitors. As many technical risks are factored in given the price losses, the multi-year, technically defensive stance towards this stock should be abandoned. Especially on weak trading days, Rio Tinto is a speculative technical buy. The long-term technical price potential should lie in testing the resistance zone from 2580 GBp. Every position in Rio Tinto should have a strategic safety stop at 1540 GBp.

Total: Chance of technical bottom formation
France's multinational oil and gas company Total managed a price rise from €29.4 to €54.7 in the bull market from September 2012 to June 2014. Within this upward movement, the medium and long-term staggered support zone from €34.0 to €37.0 was established. In summer 2014, the bull market ended – against the backdrop of falling crude oil prices – and Total firstly fell into a technical correction. In the following months, this correction trend extended to an ideal-typical bear market with interplay between sell signals, medium-term downturns and short-term interim recoveries. After almost two years, the bear-market trend is currently at c. €45.0. At the beginning of 2016, a bear-market acceleration took place and Total was pushed into the old staggered support zone from €34.0 to €37.0. Against the backdrop of the oversold situation, but also the recent stabilisation of crude oil prices, Total has established a price rally up to the still falling 200-day moving average (currently at c. €42.5) with a first trading buy signal. As the medium and long-term support zone has been confirmed and the overall technical picture for Total has improved, the defensive technical stance of previous years should also be abandoned here too. Total, which has an attractive gross dividend yield of c. 5.7%, is thus an anticyclical buy, whereby the first technical staggered target should be to leave the bear-market trend. The strategic safety stop for a position in Total should be placed at €34.5.

ThyssenKrupp: Long-term support zone of €11.4 – €12.0
In the bear-market movements in 2008 and 2011/12, ThyssenKrupp had passed through downward trends that all ended in the long-term, staggered support zone from €11.4 to €12.0. In June 2012, the stock – starting out from the bear-market low around €11.45 – entered a three-year bull-market movement that took the form of a bull-market channel. The interplay between investment buy signals, medium-term upward trends and trend-confirming consolidations took the stock to share prices around €26.4 by May 2015. Against the backdrop of the medium-term overbought situation, this firstly led to a normal consolidation. However, with sell signals in August 2015 ThyssenKrupp established a downward trend that also ended the three-year bull-market channel. In the weeks thereafter, this trend continued for ThyssenKrupp with further sell signals and the bear-market acceleration took the stock back to the old, sevenyear staggered support zone from €11.4 to €12.0. Based on the oversold situation, ThyssenKrupp started a price recovery in mid-February 2016 and there is now a chance of a technical bottom formation at or slightly above the long-term support zone. Consequently, ThyssenKrupp is an anticyclical, speculative buy with a technical price potential up to the area from €18.0 to €18.5. Every position in ThyssenKrupp should have a strategic safety stop at €11.4.

Aurubis: Long-term support zone from €35.0 – €35.5
MDAX-listed Aurubis (formerly Norddeutsche Affinerie) operates copper refineries and smelters and produces a wide range of different copper products. Starting out from a price level around €8.3, the Aurubis stock has been in a very long-term moderate bull-market movement since June 2003, reaching an all-time high at €62.2. Within this long-term upward movement, the stock established and tested the staggered support zone from €35.0 to €35.5 several times in the years from 2012 to 2015. At the turn of 2014/2015, Aurubis started a medium-term upward trend at this zone, which took the stock to new all-time highs by October 2015. At the turn of 2015/2016, there were several sell signals – accompanied by corporate information. This took the stock back to the multi-year support zone with a technical "waterfall effect" and a "short-term bear market". As the overall technical situation suggests a stabilisation, Aurubis, which has a gross dividend yield of c. 3.2%, is an anti-cyclical technical buy. The strategic safety stop for a position in Aurubis should be placed at €34.0.
Produktideen: Unlimited Turbo-Zertifikate
Verpassen Sie keine Nachrichten von Achim Matzke
Achim Matzke leitet den Bereich Technische Analyse & Index Research bei der Commerzbank. Nach dem Mathematik- und BWL-Studium startete er 1990 seine berufliche Karriere bei der Commerzbank. Er ist mit seinem Team maßgeblich für die Technische Analyse sowie die Erstellung von Prognosen und Strategien mit dem Schwerpunkt auf deutsche und europäische Aktien und Aktienindizes verantwortlich. 2014 wurde Achim Matzke von Thomson Reuters Extel Surveys erneut zum besten Analysten des Jahres für deutsche Aktien gewählt.

Achim Matzke ist in Printmedien (z.B. FAZ, Handelsblatt) ebenso als kompetenter Kolumnist tätig wie im TV als Interviewpartner bei ARD, CNBC und natürlich regelmäßig bei ideasTV.
Verpassen Sie nichts mehr aus der wallstreet:online Redaktion!
Schreibe Deinen Kommentar
Disclaimer