Royal Bank of Scotland
eröffnet am 04.11.06 16:29:15 von
neuester Beitrag
25.01.23 16:30:33
von
ISIN: GB00BM8PJY71 · WKN: A3DS0H ·
Symbol: RYSD
Letzter Kurs
09:14:20
· Tradegate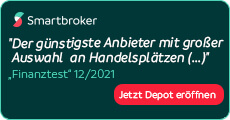 Werte aus der Branche Banken
| Wertpapier | Kurs | Perf. % |
| --- | --- | --- |
| | 39,52 | +51,93 |
| | 11,150 | +49,66 |
| | 40,54 | +45,10 |
| | 1.069,83 | +41,51 |
| | 11,840 | +37,20 |
| Wertpapier | Kurs | Perf. % |
| --- | --- | --- |
| | 8,300 | -7,78 |
| | 4,370 | -8,29 |
| | 14,400 | -8,57 |
| | 114,61 | -10,80 |
| | 4,600 | -30,30 |
Beitrag zu dieser Diskussion schreiben
Durchsuchen
Begriffe und/oder Benutzer
Feedback
Antwort auf Beitrag Nr.: 72.912.283 von faultcode am 14.12.22 14:47:50
kein Problem hier: aktuell 4-Jahreshoch (in GBp):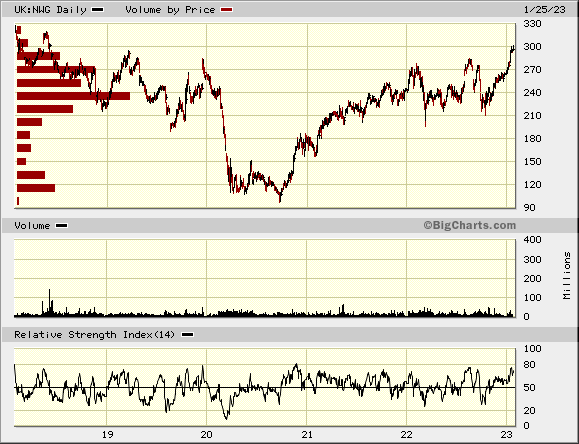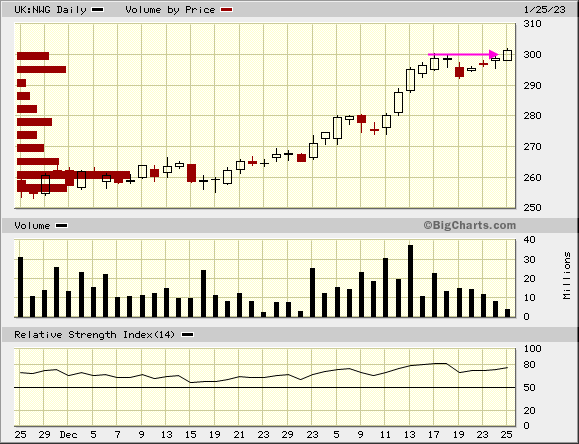 14.12.
UK Inflation Eases More Than Expected From 41-Year High
• Core inflation, petrol and used car prices all softened
• Figures unlikely to deter
Bank of England rate rise this week
https://www.bloomberg.com/news/articles/2022-12-14/uk-inflat…
...
Ansonsten: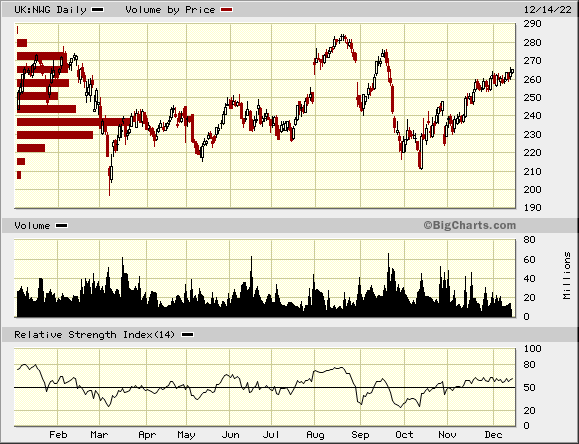 28.10.
NatWest Shares Drop as Lender Warns on Costs and UK Economy
https://finance.yahoo.com/news/natwest-misses-earnings-econo…
...
NatWest Group Plc missed estimates in the third quarter as it took bigger than expected charges for souring loans and warned of further gloom to come.

The UK's biggest corporate lender reported operating profit before tax of £1.086 billion ($1.26 billion) on Friday, below analyst estimates compiled by Bloomberg.

"Clearly the economic outlook has worsened," Alison Rose, chief executive officer, told Bloomberg Television's Dani Burger. "We're not seeing delinquencies, we're not seeing customers going into default but the outlook is more challenging so we're weighting more to the downside."

Provisions for bad loans were £247 million, compared with consensus estimates of £163.4 million, marking a return to caution about borrowers' prospects. To reflect the economic gloom, NatWest tweaked its outlook for next year, saying that income will be higher but "we no longer expect costs to be broadly stable given increased inflationary pressures." Impairments will also increase.
...
=>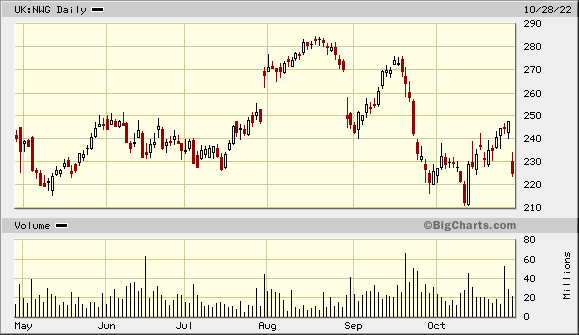 UK-Pensionsfondskrise wieder vorbei?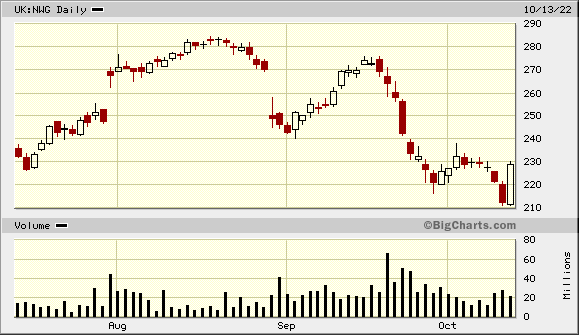 Morgen soll ja das "Ultimatum" enden:

13.10.

UK Pension Funds Selling Stokes Fear Across Bond Markets https://www.yahoo.com/now/uk-pension-funds-selling-stokes-01…

...

UK pension funds are dumping assets to meet margin calls as the BOE confirmed it will end emergency bond buying, and the reverberations are being felt everywhere from Sydney to Frankfurt and New York.
...

"Investors fear further selling from UK liability-driven investment managers in response to margin calls, including selling of USD high-grade credit," JPMorgan Chase & Co. strategist Eric Beinstein wrote Wednesday. "There was some evidence of this selling yesterday."

That selling was manifest in risk premium movements. On Tuesday, US investment-grade bond spreads widened five basis points, according to Bloomberg index data. But the Markit CDX North American Investment Grade Index, a proxy for credit risk, widened just 1.9 basis point. Similar underperformance of cash bonds happened two weeks ago when the UK pension issue first flared up, JPMorgan's Beinstein wrote.

Meanwhile, selling by UK liability-driven funds "continues to result in a much-higher-than-usual" amount of Australian securitization notes being offered, National Australia Bank analysts including Ken Hanton wrote in a Thursday report.
...



If the BOE holds course and ends the buying program on Friday

, the next crunch date could be Oct. 31. That's when Kwarteng will announce his medium-term fiscal strategy and the non-partisan Office for Budget Responsibility will publish an accompanying assessment. The date was brought forward by more than three weeks after City of London figures warned Kwarteng that he couldn't wait until late November to reassure markets.

...
28.9.

Bank of England warns of risk to UK financial stability as it intervenes in gilt market Emergency action follows historic sell-off in government bonds https://www.ft.com/content/756e81d1-b2a6-4580-9054-206386353…

...

The Bank of England took emergency action on Wednesday to stem a crisis in government debt markets, suspending its programme to sell gilts and instead pledging to buy long-dated bonds.

The central bank warned of a "material risk to UK financial stability" from the turmoil in the UK government bond market that has followed chancellor Kwasi Kwarteng's tax cuts and borrowing plan. It also raised the prospect of a "tightening of financing conditions and a reduction of the flow of credit to the real economy".
...

That market turmoil heaped

pressure on pension funds to sell bonds to stave off concerns about solvency

. Thousands of such groups had faced urgent demands for additional cash from investment managers

to meet margin calls

after the collapse in UK government bond prices blew a hole in strategies to protect them against inflation and interest-rate risks.
...
21.9.

UK Looks at QE Change to Avert £10 Billion Payout to Banks UK Prime Minister Liz Truss's new government has looked at changing the Bank of England's money-printing program to save the UK taxpayer billions of pounds at a time when the public finances are under increasing strain. https://financialpost.com/pmn/business-pmn/uk-looks-at-qe-ch…

...

The UK isn't alone in reviewing a possible change to interest on reserves. Last month, Bank of France Governor Francois Villeroy de Galhau said the combination of the "massive excess liquidity" created by QE and rising interest rates "

would provide a sizeable risk-free income to the banking system

and a similar loss" for central banks.

For the UK, one proposal to reduce the cost to the state is "tiering," under which some reserves would be ring-fenced and earn no interest. Zero-rating the £450 billion of QE during the pandemic would save around £10 billion a year with BOE rates at 2.5%, equivalent to almost 2% on income tax.

Jonathan Pierce, a banking analyst at Numis in London, estimates that the net annual taxpayer transfer will be around £17 billion if BOE interest rates hit 4%. Traders are betting that UK rates will rise to 4.5% by the middle of next year. He expects the UK will introduce tiering, under which "a portion of reserves would attract a 0% rate, with marginal balances continuing to receive base rate."

BOE Governor Andrew Bailey has said the arrangement would effectively be a tax on the banks and is therefore a decision for the Treasury.



Targeting the £450 billion of reserves would slash UK commercial bank profits by 25%

, Pierce estimates. At £10 billion a year, the loss of income would be more than the banking industry payments in corporation tax, the bank surcharge and bank levy in 2021 combined, according to figures from PWC and UK Finance.

Yet, the savings would likely be much welcomed by Truss amid questions about the funding for her economic proposals.

Michael Forsyth, who led the House of Lords Economics Affairs Committee review into QE last year, said that for the government "it is a honey pot, maybe one too tempting to resist."

...
8.9.

UK Banks May Write Off £41 Billion in Loans Due to Recession, Credit Suisse Says https://financialpost.com/pmn/business-pmn/uk-banks-may-writ…

...

Britain's lenders will have to write off £31 billion to £41 billion ($35.6 billion to $47.1 billion) of loans over the next three years as the country is hit by a recession, analysts at Credit Suisse Group AG predicted.

The estimates are based on an economic contraction of between 1.5% and 4%, Omar Keenan and Alexander Demetriou said in a note. The write-offs would be 40% to 90% above regular "through-the-cycle" levels, they added.

The forecast reflects the damage that the cost-of-living crisis is set to inflict on Britain's economy. Liz Truss, the new prime minister, is due to set out her plan to tackle soaring energy bills on Thursday.

Still, UK bank stocks such as NatWest Group Plc and Lloyds Banking Group Plc have outperformed this year as rising interest rates are set to benefit margins on loans. Banks set aside billions of pounds for potentially failing loans during the pandemic,

but have begun to unwind these provisions as borrowers have coped better than expected.



Valuations remain attractive in a mild-recession scenario, Credit Suisse said, adding that developments in the energy market and government support will be key for sentiment on credit losses.

They kept outperform ratings on NatWest, Lloyds and Barclays Plc

.

...
29.7.

NatWest to splash billions in dividends as profits jump https://finance.yahoo.com/news/natwest-splash-billions-divid…

...

NATWEST is to hand out more than £2 billion in dividends to investors, of which half goes to the UK government, as it showed strong form almost 15 years after it was bailed out.

The bank still 48% owned by the Treasury is in rude enough health to pay a special dividend of 16.8p and a 3.5p interim divi, worth £2.1 billion in all.

It is also buying back shares and puts the returns to shareholders so far this year at £3.3 billion.

With the economy shaking, that could prove controversial.



Chief executive Alison Rose insists the balance sheet is robust enough to allow for the pay-outs while still supporting customers

. She says so far there are no signs of distress, but admits that is likely to change as higher energy bills arrive.

"We are very comfortable with where we are, there are no signs of defaults. But we are going to see a fall in disposable incomes. Lots of households and businesses have never had to operate in a high interest or inflationary environment," she said.



Half-year profits jumped from £1.5 billion to £2.8 billion and guidance for the rest of the year was raised

. NatWest shares jumped 17p, 7%, to 247p.

On the economy Rose told the Standard: "Clearly it is going to get tougher. My job over the next two to three years or however long the economic cycle is to make sure we are in good shape to help customers."

NatWest is doing 5000 financial health checks a week and has already spoken to three million customers it fears may be hit hardest.

...

=> Rock 'n' Roll:
18.7.
UK Leads EU in Business Confidence Despite Drop to Record Low
https://www.bnnbloomberg.ca/uk-leads-eu-in-business-confiden…
...
British businesses lead their European counterparts in terms of confidence about the future even after an index of optimism plunged by half to a record low.

Accenture and S&P Global said their net balance measuring whether UK companies expect activity to increase fell to 28% last month from 56% in February. While that matches the lowest reading since the survey began in 2009, it's still higher than elsewhere in the European Union or other places in the world.

A surge in inflation, which reached the highest level in four decades in the UK, is the main driver of the bleaker outlook. Accenture suggested confidence is holding up in the UK because businesses have become used to coping with an uncertain outlook.

"Inflation and a cloud of economic uncertainty have understandably knocked business confidence," said Accenture's Matt Prebble. "UK business leaders have proven resilient in the face of constant change, which may explain their optimism compared to other countries."

The majority of companies expect profits will fall, a first in the survey's history. Six-in-10 firms expected to pass higher costs to customers.
...
22.6.
UK to Extend NatWest Share Sales for Another 12 Months
https://www.bnnbloomberg.ca/uk-to-extend-natwest-share-sales…
...
The UK government is extending a plan to sell more of its 11.3 billion-pound ($14 billion) stake in NatWest Group Plc for another year, as it looks to further reduce its stake in the lender.

U.K. Government Investments Ltd., the body that oversees state holdings, said the extension means the trading plan is now set to terminate on Aug. 23, 2023 instead of Aug. 11, 2022, the Treasury said in a statement Wednesday. The government currently owns about 48.5% of NatWest Group, a hangover from the costly bailout of the then-Royal Bank of Scotland during the financial crisis.
...

There remains a cap of up to 15% of the aggregate traded volume over the extension period on the total number of shares that can be sold.

The UK said in the statement that it continues to keep "all options and timings under review for future sales," and the extension "does not preclude government from using other options to execute future transactions that achieve value for money for taxpayers, including further directed buybacks and/or accelerated bookbuilds."
...
=>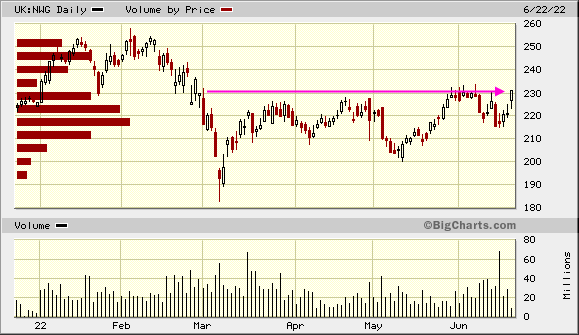 Durchsuchen
Beitrag schreiben
Royal Bank of Scotland