Cenovus Energy (Seite 4)
eröffnet am 15.09.19 01:49:31 von
neuester Beitrag
02.11.22 13:27:23
von
WKN: A0YD8C ·
Symbol: CXD
Letzter Kurs
27.01.23
· Tradegate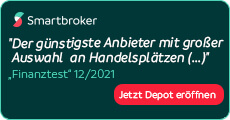 Werte aus der Branche Öl/Gas
| Wertpapier | Kurs | Perf. % |
| --- | --- | --- |
| | 0,750 | +835,28 |
| | 13,250 | +79,78 |
| | 1,436 | +23,75 |
| | 250,50 | +19,00 |
| | 9,470 | +13,01 |
| Wertpapier | Kurs | Perf. % |
| --- | --- | --- |
| | 0,760 | -13,64 |
| | 102,00 | -14,64 |
| | 2,400 | -16,08 |
| | 5,500 | -21,43 |
| | 0,858 | -29,09 |
Beitrag zu dieser Diskussion schreiben
Antwort auf Beitrag Nr.: 65.508.823 von faultcode am 27.10.20 13:35:39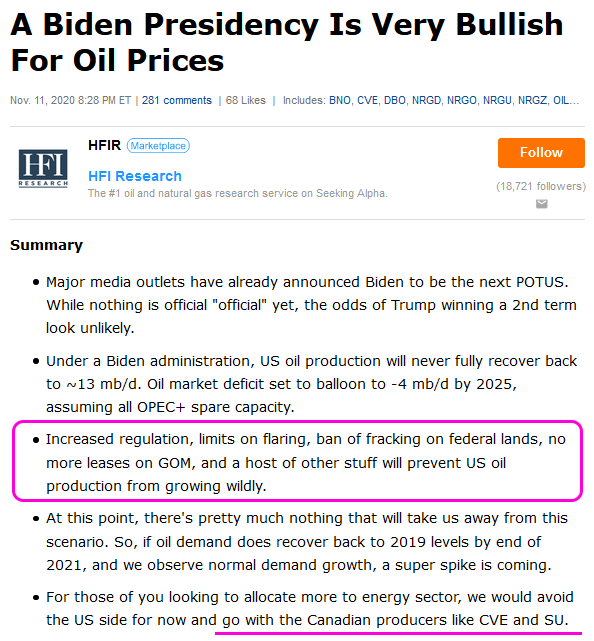 ...
https://seekingalpha.com/article/4388227-biden-presidency-is…
=>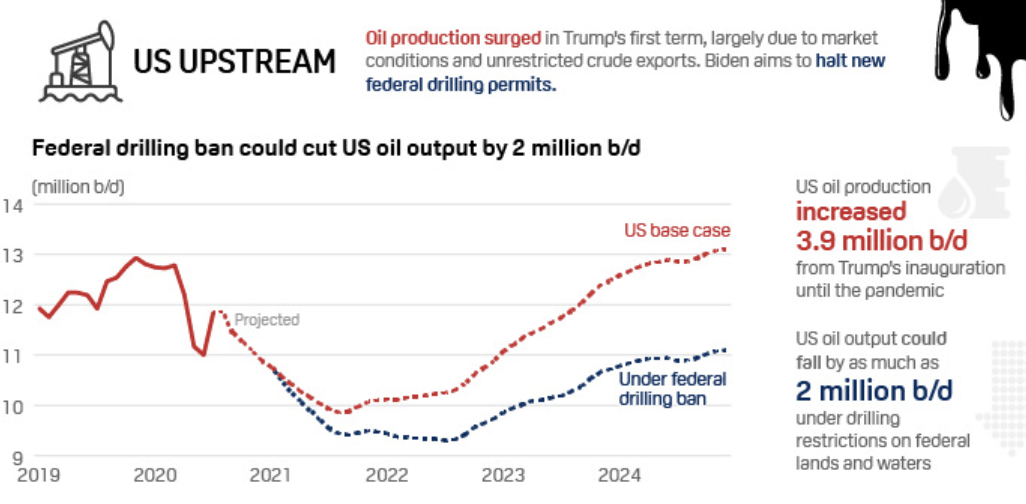 Antwort auf Beitrag Nr.: 65.503.786 von faultcode am 26.10.20 23:49:26
...
A protracted battle over pipelines in Canada has led to some strategy shifts in the oil sector. Calgary-based Cenovus Energy Inc. said Sunday it will buy Husky Energy Inc. for C$3.8 billion ($2.9 billion) in stock. Cenovus executives said the acquisition will boost the company's refining business, making it less exposed to pipeline problems that have depressed prices for Canadian heavy crude.
...
Government Aid
For Alberta, the cancellation of Keystone XL would be a symbolic and financial blow. To jump-start work on the Canadian side, the province agreed earlier this year to fund the first year of construction with a $1.1 billion investment and to guarantee $4.2 billion of loans.

The investment was made knowing the political risks but work will create "facts on the ground," making it harder for Biden to cancel the project, Alberta Premier Jason Kenney said at Bloomberg's Canadian Fixed Income Conference on Oct. 13. The project has the support of Democrat-friendlily unions and Alberta is prepared to defend the project should Biden be elected, he said.

Keystone XL may survive a Biden administration, Dan Tsubouchi, chief market strategist at SAF Group in Calgary, said. While a focus on climate change is part of Biden's agenda, so are health and the economy. The pandemic may give him room to keep the project going for the sake of jobs, he said.

"I don't think he pulls it day one," he said. "He's ultimately 'Practical Joe Biden.'"
27.10.
Keystone Faces Biden Risk After Covid Made Project Less Crucial
https://www.bloomberg.com/news/articles/2020-10-27/keystone-…
Husky-Aktionäre heute mit Verwöhnprogramm:

26.10.

This Big Canadian Oil Deal Isn't Being Taken Well. Here's Why. https://www.marketwatch.com/articles/big-canadian-oil-deal-i… Canadian oil companies Cenovus Energy and Husky Energy agreed over the weekend to merge, the latest sign of consolidation in the troubled oil-and-gas industry.

The combined company would be the third-largest producer in Canada, and the second-largest refiner. Like other recent mergers, this deal will be all-stock, and the equity involved is valued at $2.9 billion.

Investors didn't seem particularly enthusiastic about the deal in Monday morning trading. Cenovus shares (ticker: CVE) were down 13%, while Husky stock (HSE.TO), which trades in Toronto, was up 6.8%. The Dow Jones Industrial Average was down 2.6%.



Investors are concerned about the size of the premium for Husky.

Most recent oil-and-gas deals have been done at a modest premium of less than 15%. But this one comes at a 21% premium to Husky's pre-deal price, and a 23% premium including warrants that Husky shareholders are expected to receive with the deal.

The combined company will also have quite a bit of debt. Including the debt, it is a $23.6 billion transaction, the companies said. In the latest quarter, Cenovus had 10.1 billion Canadian dollars worth of net debt, or US$7.7 billion, while Husky had C$6.6 billion.

The companies expect to cut substantial costs, anticipating synergies of $1.2 billion, mostly completed in the first year. And they expect their scale to make it easier to make money even if oil prices stay low. They say they can reduce the price at which they make positive free funds flow, a term similar to free cash flow,

to $36 a barrel in 2021 and potentially as low as $33 in 2023

.

Some analysts were positive on the deal, in part because it could help the companies improve their balance sheets.

"While the near-term market reaction may be mixed, we believe the transaction puts Cenovus in a better position to strengthen its balance sheet, generate free cash flow, and increase future returns to shareholders," BMO Capital Markets analyst Randy Ollenberger wrote.

Husky could benefit too.

"For Husky shareholders, we see the CVE-HSE transaction as an overwhelming positive. For Husky, the combined portfolio offers

exposure to a premier oil sands asset base

and a clearer path toward deleveraging and accelerating shareholder returns," analyst Matt Murphy at Tudor, Pickering, Holt wrote.

Others were more mixed. The price might overvalue Husky, Credit Suisse's Manav Gupta wrote. "While the deal makes strategic sense, [we] see 23% premium as excessive. Given

Cenovus asset quality is far superior to Husky, particularly on the thermal side

, a mid to high single digit premium would have been sufficient." Following the announced deal between Chevron (CVX) and Noble at a 7.4% premium, "the deal dynamics have changed and plus-20% premium is viewed as excessive."

Cenovus doesn't have a great recent history with acquisitions. The stock has fallen 64% since it bought the Canadian assets of ConocoPhillips (COP) in 2017.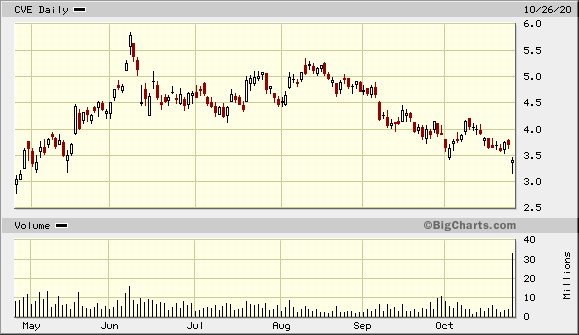 --> ob der Deal mit diesen Parametern so bleibt?
Muss heute Abend mal genauer unter die Lupe nehmen ob hier nicht mit Husky zusammen eine Chance besteht.

Diese Ölsandassets finde ich interessanter als die Shale-Werte in den USA. Bei den Ölsandprojekten hat man enorme Anlaufkosten. Sobald das Projekt aber steht kann man zu recht niedrigen laufenden Kosten über Jahrzehnte produzieren. Habe gerade nur noch Canadian Natural im Depot. Canadian Natural kann ja bereits bei unter 40 US$ WTI ihre Dividende (aktuell über 7Prozent) und ihre Investitionsprojekte aus dem CAshflow stemmen.

Cenovuz und Husky zusammen könnte einige Vorteile bringen. In Kanada hat man ja schon vor Corona immer wieder Probleme durch zu wenig Pipeline-Kapazität gehabt (was ja auch Climate- Action Trudeau und seine Genossen so wollen). Dadurch war Öl aus Alberta oft sehr günstig am Markt.Da haben oft Firmen mit Raffinerien tolle Margen mit machen können.
22.10.

Heavy Oil Scarcity to Boost Canadian Oil-Sands Prices Next Year https://www.msn.com/en-us/money/markets/heavy-oil-scarcity-t…

...

Canadian oil prices are poised to strengthen next year as Mexican heavy crude exports to U.S. Gulf Coast refineries dwindle, according to BMO Capital Markets.

Heavy Western Canadian Select's discount to the West Texas Intermediate benchmark could narrow to $5 to $7 a barrel next year, BMO said in a report Wednesday. Oil sands producers will benefit from less output of competing crude from Latin America as Petroleos Mexicanos expects to cut exports while Venezuelan supplies remain off limits due to U.S. sanctions.

Western Canadian Select discount to WTI strengthened to less than $10 a barrel since mid-April, after more than a million barrels a day of oil sands production was shut due to the Covid-19 pandemic. The strong differential has remained near $10 even as oil sands supplies have returned to the market.

U.S. Gulf Coast and Midwest refiners invested billions of dollars in recent decades to process heavy crude, of which Canada is among the world's biggest producers. The country's oil, produced in the oil-sands mines and wells in Northern Alberta, has only become more valuable as alternative grades from Latin America have diminished, a trend that's poised to continue in the coming years.



Pemex is forecasting a reduction of almost 70% in exports of its flagship heavy crude between 2021 and 2023, according to people familiar with the situation.

The drop will happen due to declining output and the need to supply crude to a new $8 billion refinery championed by the country's President Andres Manuel Lopez Obrador.

U.S. Gulf Coast demand will create tension with Midwest refiners. "Chicago refiners have limited access to alternative sources of heavy oil and will bid heavy oil away from the Gulf Coast market to ensure they have enough supply," the bank said. "We believe that this could translate to stronger prices for WCS or a tighter spread between WTI and WCS."

Increased local refinery demand and more pipeline export capacity will eliminate the need for Alberta's mandatory production limits and further help Canada's oil producers, BMO said. Limits were imposed by Alberta's government two years ago to shore up prices but later relaxed after a shortage of pipelines created a bottleneck that stranded supplies.

Three major oil export pipelines are currently under construction. Next year TC Energy Corp. plans to add 50,000 barrels a day of additional exports to its existing Keystone pipeline using so-called drag resistance agents after signing new 20-year contracts with shippers.



The relatively brighter future for Canada's oil sands producer contrasts with U.S. shale producers.

Once constructed, oil sands operations keep pumping out crude at relatively low operating costs whereas oil from the shale oil producers of Texas and North Dakota are struggling to keep drilling amid depressed prices.
Antwort auf Beitrag Nr.: 63.275.239 von faultcode am 08.04.20 13:44:58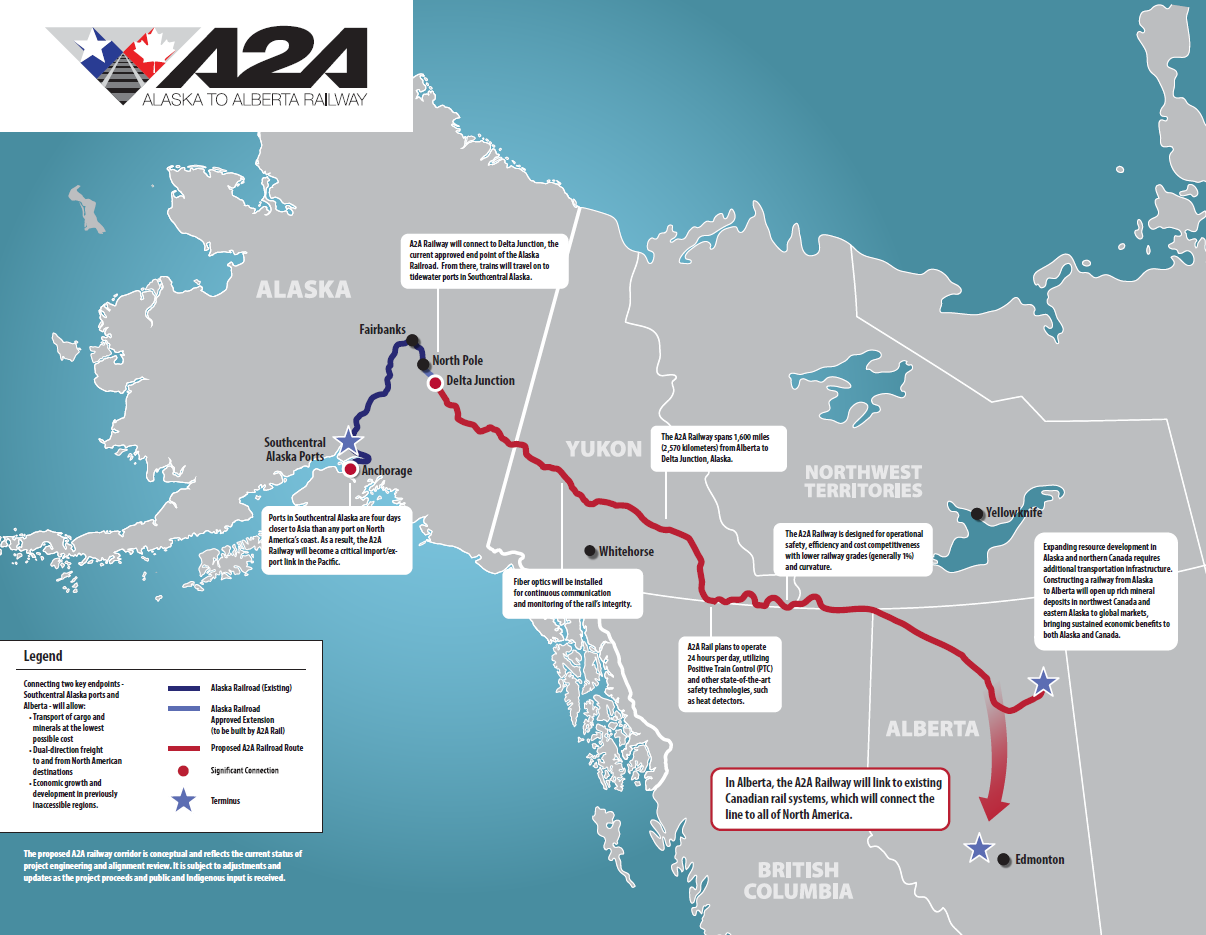 https://a2arail.com/resources/
27.9.
Trump to approve $22B railway between Alaska and Alberta
Railway could move oil, grain, ore, container goods and potentially passengers
https://www.cbc.ca/news/canada/calgary/a2a-railway-1.5740678
...
The next steps will include going through environmental impact assessments, and obtaining the correct regulatory approvals in both the U.S. and Canada.

In July, the company commissioned an engineering firm to begin surveying land along the Alberta segment of the proposed route. It said it planned to begin field activities like land clearing, fencing and access road preparation in the province in the next three to six months.

"The new rail line will create new economic development opportunities for a wide range of businesses, communities and Indigenous communities in Canada and Alaska," A2A founder Sean McCoshen said in a release at the time.

CBC News has reached out to the company for comment on the promised approval.

A2A Rail has said that if built, the project will create more than 18,000 jobs for Canadian workers and bring in $60 billion to the country's GDP through 2040.
...
Antwort auf Beitrag Nr.: 63.221.667 von faultcode am 02.04.20 22:30:17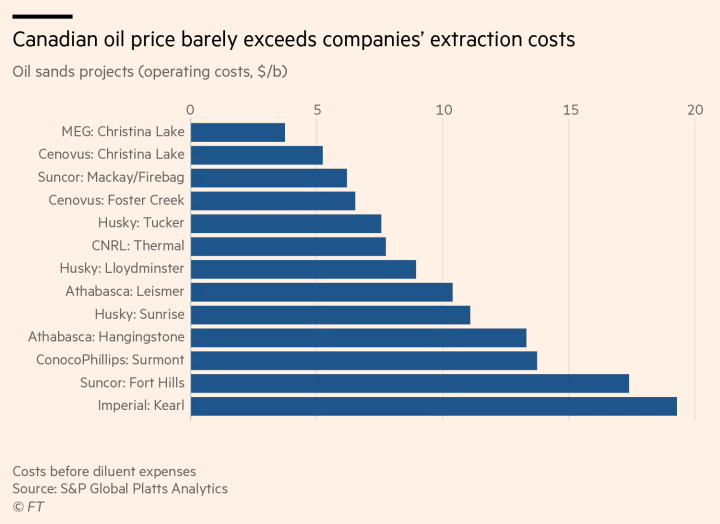 8.4.
Canada's oil groups battle for survival
Sector scrambles to staunch crude output after local price sinks below $5 a barrel
https://www.ft.com/content/9042d463-db0e-4dc8-8c46-c71cce98e…
Antwort auf Beitrag Nr.: 63.221.667 von faultcode am 02.04.20 22:30:17
2.4.
Cenovus further cuts 2020 spending, suspends dividend citing oil prices
https://ca.finance.yahoo.com/news/cenovus-energy-futher-cuts…
...
Canadian integrated oil and natural gas company Cenovus Energy <CVE.TO> said on Thursday it would reduce its full-year capital spending by another C$150 million ($106 million) and suspend its dividend, citing low global oil prices.

The fall in crude prices have forced producers to look for ways to reduce cost, and Cenovus said its measures included a 25% cut in compensation for chief executive officer and board members.

The company's other executives will take a 12%-15% reduction in annual base salary, while employees at other levels will experience a graduated smaller salary impact, Cenovus said.

Last month, Cenovus announced a near 32% cut to its capital spending for the year and a temporary suspension of its crude-by-rail program, as an erupting Saudi-Russia oil price war dealt a blow to the struggling Canadian oil industry.

The company on Thursday kept is oil sands production outlook unchanged in then range of 350,000 barrels per day (bpd) to 400,000 bpd for the year.
27.3.
Canadian heavy oil collapses another 28% to under $5 as oilsands face shut-ins
https://business.financialpost.com/commodities/energy/canadi…
...
Currently, Canadian heavy crude now costs less than the price paid by a company with long-term contracts to ship it down Enbridge Inc.'s Mainline and Flanagan South systems to Texas.

That's a problem for producers such as Cenovus Energy Inc., which has commitments to ship 75,000 barrels a day down the system. MEG Energy Corp., another heavy oil producer, has contracts to ship 50,000 barrels a day and has plans to expand to 100,000 barrels a day in the second half of 2020.

Enbridge charges between about US$7 to a little over US$9 a barrel to ship heavy oil to Texas, excluding additional charges such as for power, according to tariff documents. Cenovus declined to comment and MEG didn't return an email for comment.
...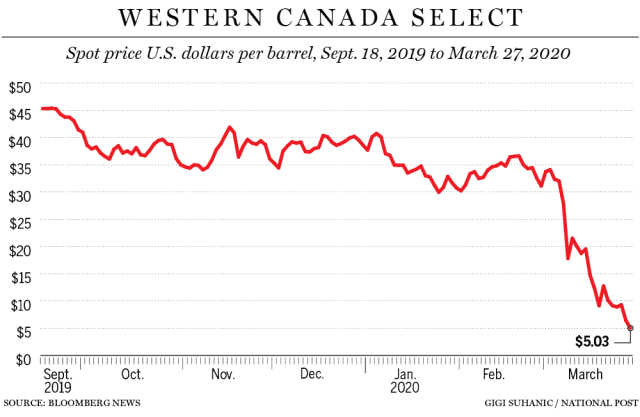 Cenovus Energy