Keine Angst vom "schwarzen Schwan": Corona-Börsen: Ruhig bleiben und zukaufen, statt dem h | Diskussion im Forum
eröffnet am 26.02.20 20:01:23 von
neuester Beitrag
02.06.23 11:59:50
von
Beiträge:
53
ID: 1.320.917
Aufrufe heute:
0
Gesamt:
5.039
ISIN: DE0008469008 · WKN: 846900
Letzter Kurs
06.06.23
Lang & Schwarz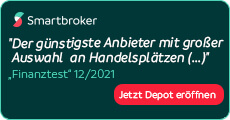 Beitrag zu dieser Diskussion schreiben
https://www.wallstreet-online.de/etf/a2dwav-goldman-sachs-he…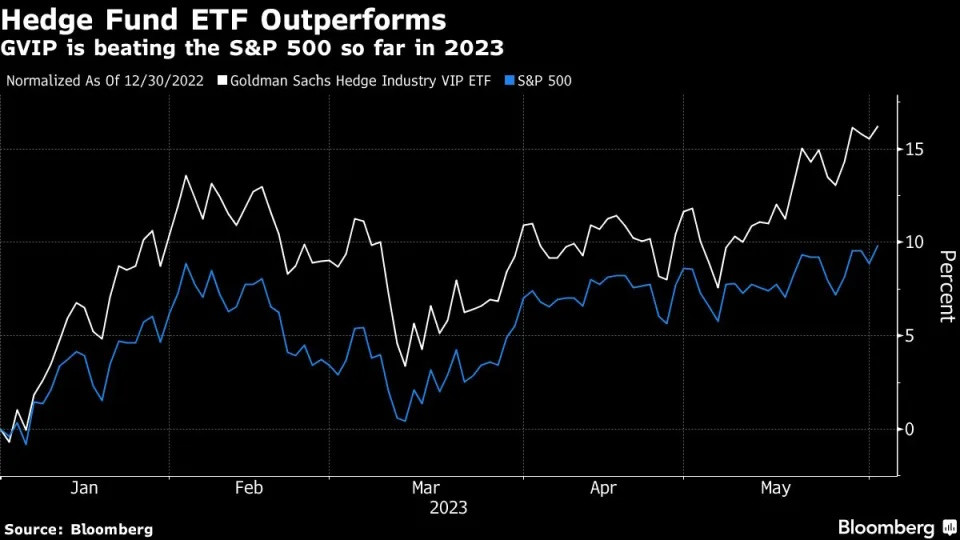 2.6.

Goldman's Hedge Fund ETF Is Crushing the S&P 500 With AI Bets https://finance.yahoo.com/news/goldman-hedge-fund-etf-crushi…

...

The $127 million Goldman Sachs Hedge Industry VIP exchange-traded fund (ticker GVIP),

which scans 13F filings to build a portfolio of popular hedge fund picks

, has rallied more than 16% so far in 2023, Bloomberg data shows. That compares to a nearly 10% climb for the S&P 500.

GVIP's 2023 outperformance is largely thanks to its three largest holdings: AI-darlings Nvidia Corp., Broadcom Inc. and Advanced Micro Devices Inc.

Paced by Nvidia, the chipmakers have surged over the past month as hype builds around the technology, which was a hot topic in the latest round of corporate earnings. While GVIP has lagged the S&P 500 since its inception in late 2016, the ETF's returns suggest that hedge funds were able to get ahead of the AI craze.

"GVIP and the underlying fundamentally-driven hedge fund managers being tracked deserve some credit for properly positioning ahead of the recent AI mania," said Nate Geraci, president of The ETF Store, an advisory firm. "That said, every dog has its day."

GVIP is rebalanced quarterly and consists of the 50 stocks that appear most frequently among the top ten holdings of US hedge funds. Its holdings are equally weighted at each reshuffle.

Typically, the ETF tends to do well during periods that see tech and growth stocks outperform, and

trail when risk appetite sours

, according to Geraci. As such, GVIP underperformed in 2022 with a 32% plunge, compared to the S&P 500's 19% fall.

...

=>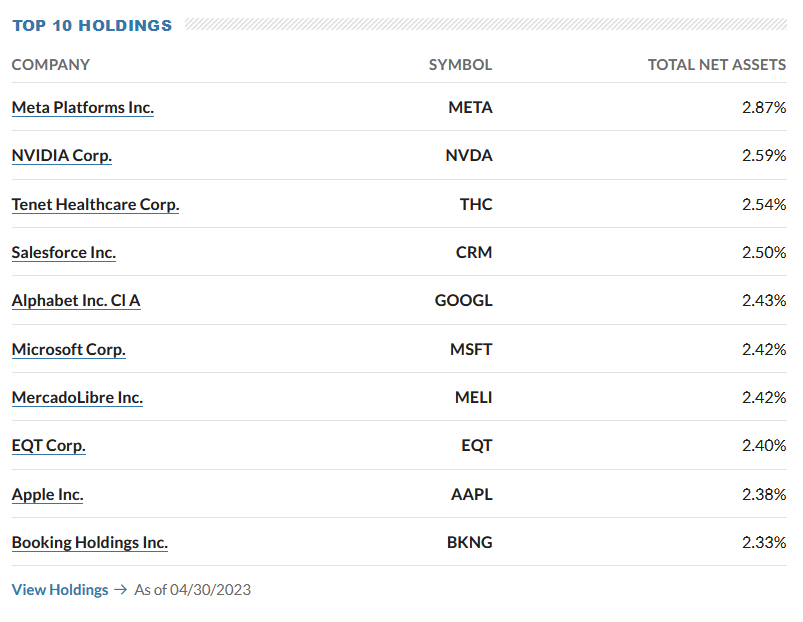 https://www.marketwatch.com/investing/fund/gvip?mod=search_s…
14.4.

Crypto Investment Firm BlockTower Winds Down Its Market-Neutral Fund Miami-based digital-asset investment firm BlockTower Capital wound down a "market-neutral" crypto fund that at one point oversaw more than $100 million with the goal of

generating returns no matter which direction prices took

. https://financialpost.com/pmn/business-pmn/crypto-investment…

...

The opportunity for a market-neutral strategy "shrunk dramatically in the aftermath of 2022

," Blocktower Chief Information Officer Ari Paul said in a statement, adding that higher interest rates and increasing compliance challenges related to decentralized finance investment strategies also contributed to the decision to close the fund.

...

=> es ist jedesmal dasselbe: immer dann, wenn man eine "market-neutral strategy" bräuchte, funktioniert sie nicht

Jede Generation muss das wohl auf's Neue erst lernen.
Kritik an Mark Spitznagel / Universa Investments ("tail risk-protection"):
3.4.
Why One Firm's 3,612% Return Is Drawing the Ire of Hedge Funds
https://finance.yahoo.com/news/why-one-firms-3-612-125040045…
...
It's such a tough sell that in a foreword to Spitznagel's 2021 book, Taleb evoked a saint who lived her life as a man and was falsely accused of impregnating a local woman until she was vindicated after death. The book, he wrote, was a "monumental f*** you to the investment industry."

After 22 years hedging tail risks, Jerry Haworth at 36 South Capital Advisors knows just how hard it is to explain and defend the business. But he says managers should avoid over-selling a single month's performance.

"I don't think any fund, tail risk or not, should market investment returns by cherry picking by time or asset class or product," he said. "It's a difficult pitch, but it shouldn't be."
...
Antwort auf Beitrag Nr.: 73.553.620 von faultcode am 25.03.23 20:32:01
25.3.
Billionaire Chris Rokos De-Risks Hedge Fund After Losses
https://www.bnnbloomberg.ca/billionaire-chris-rokos-de-risks…
...
"We have de-risked following this month's market price action, and P&L volatility has declined substantially as a result," Rokos's London-based investment firm told clients in a letter on Saturday, a copy of which was seen by Bloomberg.
...
In the letter to clients, Rokos said the firm played no part in the discussions between the two regulators.

"However, we can confirm that throughout this period our unencumbered cash has been, and remains, at healthy levels. There have been no requests for additional initial margin from our counterparties," the firm said.

Bloomberg reported last year that the investment firm, which already runs about $15.5 billion, was raising extra money because it's required to post higher margin with counterparties due to the more volatile climate.

Rokos's macro hedge fund lost 15.3% this month through March 17, which if sustained will mark his second-worst monthly decline. The fund is down about 10% this year after a 51% surge in 2022.
...
Antwort auf Beitrag Nr.: 73.021.826 von faultcode am 04.01.23 14:04:33

Chris Rokos --

Margin Call

:

24.3.

FT:

SEC raised concerns over hedge fund Rokos after losing bond bets US regulator contacted UK authorities after large collateral calls https://www.ft.com/content/225d3f76-8695-4752-b895-877eadea8…

...

The US Securities and Exchange Commission has raised concerns over Rokos Capital Management after the hedge fund was forced to hand over large amounts of cash to its banks as collateral when an outsized bet on US government bonds backfired earlier this month.

SEC chair Gary Gensler brought up the hedge fund during calls with UK regulators this week after it faced larger margin calls than peers, according to people familiar with the conversations.

The US regulator does not supervise London-based Rokos but is on high alert for tensions in financial markets after a spate of recent blow-ups in the banking sector. UK regulators agreed to keep an eye on the hedge fund, one of the people said.

The conversation points to regulatory fears that the

rapid unwinding of concentrated hedge fund bets could exacerbate strains in the US government bond market

, which forms the bedrock for asset prices around the world.

The episode stems back to the failure of Silicon Valley Bank earlier this month and concerns around the broader health of the US regional banking system. After SVB collapsed, investors snapped up Treasuries, as they bet that the US Federal Reserve would slow the pace of interest rate raises to shore up financial stability.



When bond prices climbed, many hedge funds were wrongfooted in the rally

, but industry participants say Rokos was one of the biggest short-term losers. The fund, which manages about $15.5bn, was down by 12.5 per cent for the month, the Financial Times reported on March 17, when multiple counterparties requested that it put up more assets to meet margin calls, said two people familiar with the matter.

However, counterparties contacted by the FT said they were not concerned about Rokos's ability to meet the margin calls.

Unlike many other macro hedge funds, which tend to be more diversified, the vast majority of Rokos's leverage is in government bond markets.

Billionaire Chris Rokos, who co-founded hedge fund Brevan Howard before striking out on his own, hit the headlines in late 2021 when he was caught out by a huge sell-off in short-term government debt. He subsequently reduced the amount of market risk he was taking and made more than 50 per cent last year, before this month's losses.
...
20.3.

Trader Who Made Billions in 2008 Refrains From Turmoil Bets https://www.bloomberg.com/news/articles/2023-03-20/trader-wh… • Artradis co-founder Diggle remains on sidelines amid crisis
• Diggle doesn't see systemic problem from SVB, Credit Suisse

...

Steve Diggle, co-founder of volatility hedge fund Artradis Fund Management, which scored a $2.7 billion trading gain between 2007 and 2008, is sitting on the sidelines this time as bank woes rock markets.

While he doesn't see systemic risk akin to the global financial crisis, the "imprecise and impossible to quantify"

investor sentiment

is keeping him from putting on a trade, said Diggle, who now invests money for his family office Vulpes Investment Management.

...
16.3.

Former Bridgewater Exec Sees Hedge Funds Driving Odd Stock Moves https://www.bloomberg.com/news/articles/2023-03-16/former-br…

• Bob Elliott says

de-risking is driving market volatility

• Credit Suisse liquidity issues introduced counterparty risk

...

Tech stocks are strong while small caps sink

. US equity benchmarks stay placid while a generational repricing grips Treasuries. Is there a grand, unifying theory for the weird motion of markets over the last two weeks? One exchange-traded fund manager says yes.

The force behind it all: Sudden moves from hedge funds that were positioned for one economic environment and got another, says Bob Elliott, chief investment officer of Unlimited Funds.

Specifically, speculators who had hitched their fortunes to trades that might do well in a rising-interest-rate world — value companies and international equities — have been rotating into once-shunned groups that are the market's new relative winners.

The latter include large-cap growth, as demonstrated by the consistent outperformance of the Nasdaq 100 since Thursday, when anxiety started spiraling over stress the banking system.

The gauge is up 4.3% versus the Dow Jones Industrial Average's 0.2% loss and the S&P 500's 0.8% advance.

Small caps tracked by the Russell 2000 Index are down nearly 3% over the stretch, while the Stoxx Europe 600 has shown a similar loss.

...
23.1.

Citadel's $16 Billion Win Tops Paulson's Greatest Trade Ever https://news.yahoo.com/citadel-makes-16-billion-top-00010056…

...

Ken Griffin's Citadel churned out a record $16 billion in profit for clients last year, outperforming the rest of the industry and eclipsing one of history's most successful financial plays.
...

The top 20 hedge fund firms collectively generated $22.4 billion in profit after fees, according to estimates by LCH Investments, a fund of hedge funds. Citadel's gain was the largest annual return for a hedge fund manager, surpassing the $15 billion that John Paulson generated in 2007 on his bet against subprime mortgages. ...

Citadel's performance wasn't about one trade. Its flagship hedge fund gained 38% last year by trading everything from equities to commodities, Bloomberg reported earlier this month. The firm made money in each of its five core strategies, which also include fixed income and macro, quant and credit. Citadel returned about $8.5 billion in profit to investors at the end of last year.
...

"The largest gains were once again made by the large multistrategy hedge funds like Citadel, DE Shaw and Millennium," LCH Chairman Rick Sopher said in a statement. "The strong gains they have generated in recent years reflect their increasing dominance

in strategies which do not depend on rising asset prices

, and their substantial size."
...

The findings also reflect the growing clout of

multistrategy hedge fund firms

, which are on the cusp of taking over equity-focused funds to become the dominant strategy in the industry. Their growing assets and higher fees are helping them win an expensive battle to hire and retain top traders.

...
Antwort auf Beitrag Nr.: 73.101.141 von faultcode am 16.01.23 17:47:19
--> IE00BLP5S460 (JUPITER MERIAN GLOBAL EQUITY ABSOLUTE RETURN FUND; Minimale Investitionssumme EUR 500; L KLASSE; EUR):
https://www.wallstreet-online.de/fonds/ie00blp5s460-jupiter-…
https://www.jupiteram.com/de/de/individual/product-page/jupi…
=> 30.11.2022:
• Gesamtwert Long-Positionen: 502
• Gesamtwert Short-Positionen: 383
------
• Gesamtzahl der Positionen 885
=>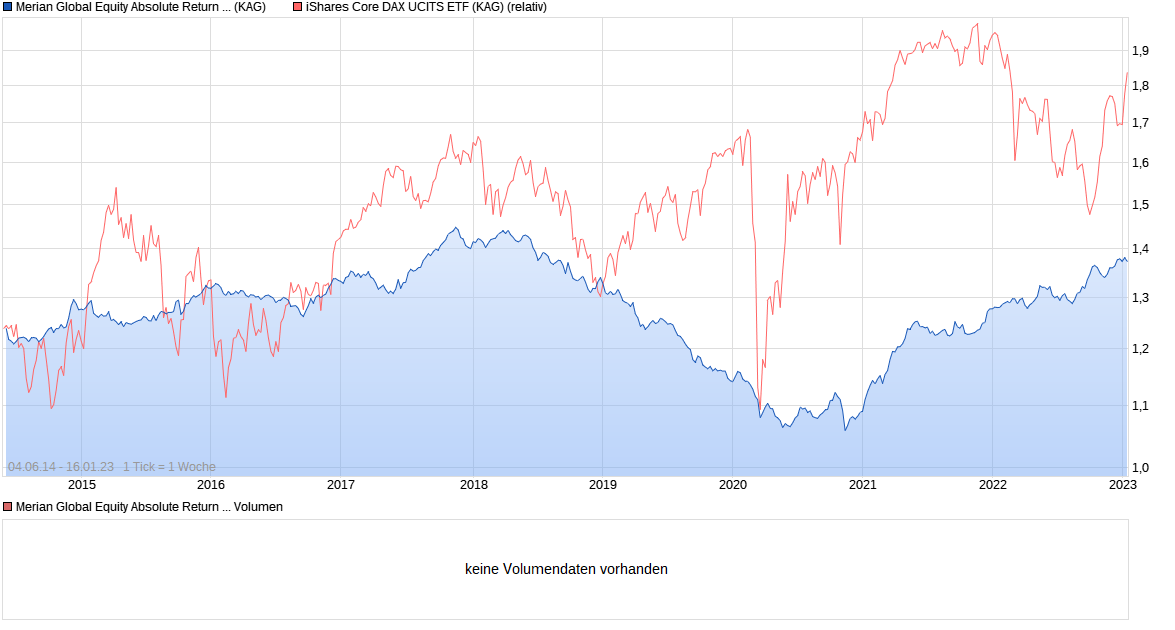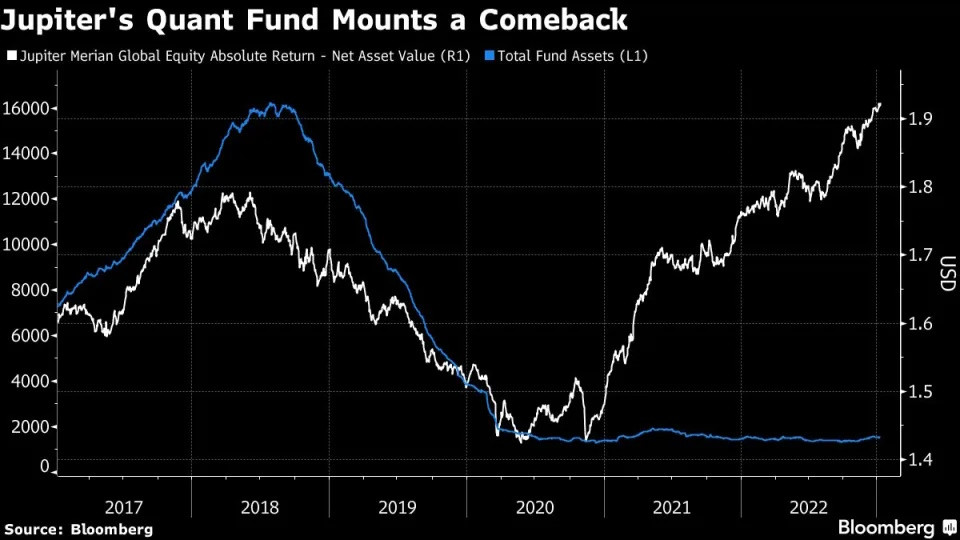 13.1.

Quant Fund That Once Lost 92% of Assets Is Making a Big Comeback https://finance.yahoo.com/news/quant-fund-once-lost-92-14300…

...

And the manager of the once-$16 billion equity fund has a message for Wall Street peers hooked on the traditional strategies it once embraced: Ditch the old-school playbook.

On the back of inflation-driven market turmoil and newfangled tools like alternative data, the flagship vehicle for London-based Jupiter Fund Management is up about 29% in the last two years. It joins the swelling ranks of firms

enjoying a big revival in factor investing

, which picks stocks based on characteristics like how cheap they look or how their prices have moved.

But even as several well-established trades like value and quality rally anew, Jupiter's quants reckon the days are numbered for peers who simply rely on the basic tenets of an allocation style that were largely forged decades ago, before the data deluge and computing advances of this era.

"If there's one constant, it's the

cyclicality of those factors

," said Amadeo Alentorn, who took over as the lead manager of Jupiter Merian Global Equity Absolute Return Fund, or GEAR, in early 2022. "Proprietary factors, not generic factors, can help you remove a lot of that."

The 44-year-old computational finance Ph.D. says factor investing has simply become too crowded and volatile, echoing a long-standing critique that was amplified during the so-called quant winter. It's a lesson Jupiter learned the hard way, when assets in GEAR dropped more than 90% in about two years through to late 2020 — a period when Big Tech dominated the stock market and systematic strategies making more dispersed bets suffered.

Back then, GEAR was more focused on fundamental factors, but

now it can cut its factor weightings significantly depending on prevailing conditions

. Value, for instance, can be as little as 2% of the fund, Alentorn said. That compares to 40% when the models were first built.

Meanwhile, to capture forces missed by traditional factors, the team, which oversees $6 billion overall, has added new inputs based on research that started in 2019. These include the

trading patterns of corporate directors, intel from earnings transcripts and changes in environmental, social and governance ratings

. A signal that looks at fund flows, for instance, is intended to find stocks benefiting from hot investment trends regardless of rhyme or reason.
...


These new signals "tend to be shorter-term," said Alentorn, who has been working on these models since 2005. "As we have seen, it's not easy to exploit factors consistently, unless you really have a very long time horizon."

The shift away from fundamentals is a significant step for Jupiter and GEAR. Originally launched in 2009 at Old Mutual Ltd., the fund historically followed traditional factors based on decades of academic work arguing certain stock characteristics always prevail in the long run.

That was still working in the first half of the last decade, helping GEAR become a juggernaut. But when cheap money abounded and Big Tech ruled in the three years through 2020, the fund lost 14% as its models bet on all the wrong horses.
...

"How markets wrestle with inflation expectations, with potential recession, now obviously with Covid being back in the news in China — all of those things should be good for uncertainty," he said. "This is a great environment for us."

...
Seite 1

Seite 2

Seite 3

Seite 4

Seite 5

Seite 6
Durchsuchen
Beitrag schreiben
Investoren beobachten auch:
| Wertpapier | Perf. % |
| --- | --- |
| | +0,43 |
| | -0,37 |
| | +1,76 |
| | +0,05 |
| | -0,42 |
| | +0,30 |
| | +0,37 |
| | +0,36 |
| | +0,03 |
| | +0,08 |
Neues aus der Redaktion
06.06.23

· Robby's Elliottwellen ·

DAX

06.06.23

· Markus Fugmann ·

DAX

06.06.23

· BNP Paribas ·

Amazon

06.06.23

· dpa-AFX ·

Apple

06.06.23

· wallstreetONLINE Zentralredaktion ·

DAX

06.06.23

· Markus Weingran ·

Apple

06.06.23

· Der Aktionär TV ·

DAX
| Zeit | Titel |
| --- | --- |
| 00:48 Uhr | |
| 06.06.23 | |
| 06.06.23 | |
| 06.06.23 | |
| 06.06.23 | |
| 06.06.23 | |
| 05.06.23 | |
| 03.06.23 | |
| 03.06.23 | |
| 01.06.23 | |
Keine Angst vom "schwarzen Schwan": Corona-Börsen: Ruhig bleiben und zukaufen, statt dem h