Hewlett Packard Enterprises
eröffnet am 11.07.16 13:12:18 von
neuester Beitrag
29.11.22 22:15:41
von
ISIN: US42824C1099 · WKN: A140KD ·
Symbol: 2HP
Letzter Kurs
09:30:46
· Tradegate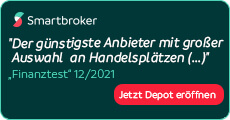 Werte aus der Branche Informationstechnologie
| Wertpapier | Kurs | Perf. % |
| --- | --- | --- |
| | 3,160 | +206,80 |
| | 1,710 | +71,00 |
| | 138,80 | +54,39 |
| | 30,40 | +52,00 |
| | 7,890 | +35,57 |
| Wertpapier | Kurs | Perf. % |
| --- | --- | --- |
| | 0,790 | -20,99 |
| | 15,048 | -23,27 |
| | 1,050 | -28,08 |
| | 30,08 | -36,51 |
| | 5,070 | -80,50 |
Beitrag zu dieser Diskussion schreiben
29.11.
HPE's stock surges on record sales, strong revenue guidance
https://www.marketwatch.com/story/hpes-stock-surges-on-recor…
...
The company forecast fiscal first-quarter sales of between $7.2 billion and $7.6 billion, while analysts polled by FactSet on average have modeled $6.98 billion.

"Our differentiated edge-to-cloud portfolio is driving sustained demand, which is translating to record- or near-record results," HPE Chief Financial Officer Tarek Robbiati said in a statement announcing the results.

HPE reported a fiscal fourth-quarter net loss of $304 million, or 23 cents a share, compared with net earnings of $409 million, or 31 cents a share, in the year-ago quarter. Adjusted earnings were 57 cents a share.
...
=>

2022Q1 kam nicht so gut an:

1.6.

Hewlett Packard Enterprise Earnings, Q3 Outlook Below Consensus https://www.wallstreet-online.de/nachricht/15536491-hewlett-…

aber:

"Persistent demand led to another quarter of significant order growth and higher revenue for HPE, underscoring the accelerating interest customers have in our unique edge-to-cloud portfolio and our HPE GreenLake platform," said Antonio Neri, president, and CEO of Hewlett Packard Enterprise.

"I am optimistic that demand will continue to be strong, given our customers' needs to accelerate their business resilience and competitiveness. We remain focused on innovating for our customers and on executing with discipline so that we translate that demand into profitable growth for HPE."

"We are particularly pleased with the

resiliency of our gross margins despite the inflationary environment and ongoing supply chain disruptions

," said Tarek Robbiati, EVP and CFO of Hewlett Packard Enterprise. "With

record levels of high-quality backlog

, we are well positioned for growth in FY22 and beyond, and confident in realizing the financial commitments we set at our Securities Analyst Meeting last October." https://investors.hpe.com/

=>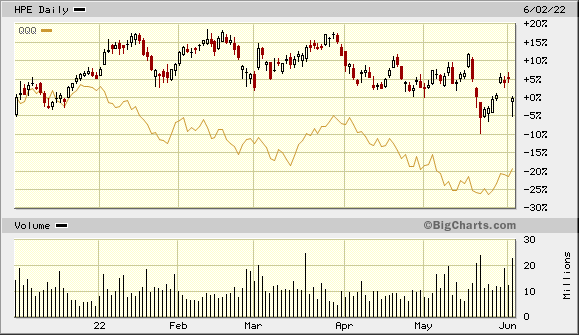 Antwort auf Beitrag Nr.: 71.620.995 von faultcode am 20.05.22 14:03:44
MT: HPE CEO Not Worried About Economy in 2022 -- Market Talk
Today 7:52 AM ET (Dow Jones)

0751 ET - Hewlett Packard Enterprise CEO Antonio Neri says he isn't too worried about the economy this year, but should it worsen in 2023 the company will make more targeted investments.

Neri, in an interview at the World Economic Forum, says the tech firm recently had a meeting where it plans for the next three years. That planning includes a scenario for a potential recession, including "what can I do to come out stronger on the other side," he said. Neri says the strategy would include freeing up capital and reinvesting it strategically. "It's a different game than cutting costs," he added. (emily.glazer@wsj.com)

(END) Dow Jones Newswires
B of A Securities Downgrades Hewlett Packard to Neutral, Lowers Price Target to $16
Today 7:51 AM ET (Benzinga)Print

B of A Securities analyst Wamsi Mohan downgrades Hewlett Packard (NYSE:HPE) from Buy to Neutral and lowers the price target from $19 to $16.
Fun fact: die HPE-Aktie hat die letzten Jahre noch nie $19 gesehen: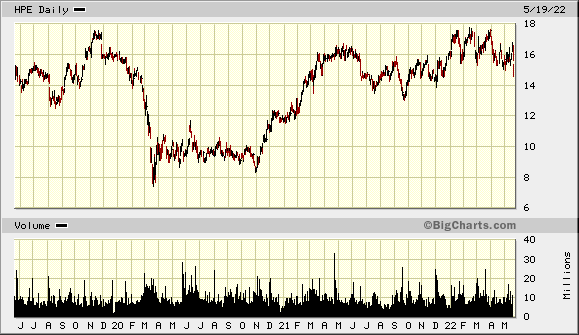 Antwort auf Beitrag Nr.: 70.392.271 von faultcode am 04.01.22 17:18:44
Die HP Inc. Aktie rauscht um eingies besser nach oben, als die Hewlett Enterprises.
Mit dem Drucker - und Servicegeschäft ist mehr zu verdienen, scheint mir.
Achtung!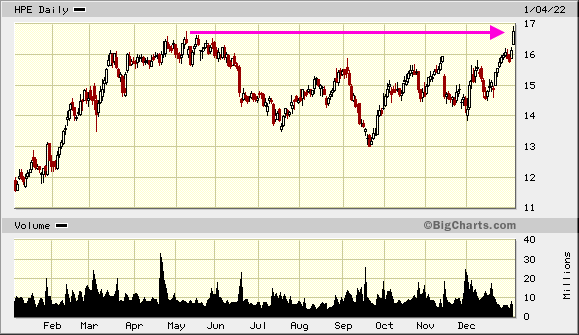 4.1.

Barclays Bumps Up Hewlett Packard Enterprise Price Target By 25% https://www.benzinga.com/analyst-ratings/analyst-color/22/01…

...

• Barclays analyst Tim Long upgraded Hewlett Packard Enterprise Co to Overweight from Equal Weight with a price target of $20, up from $16.
• The price target implies a 23.9% upside.
• Long believes the company's

core server and storage market is stabilizing and moving to as-a-service.


• Meanwhile, Long thinks its

networking "should see solid growth

."
• Further, HP Enterprise's valuation is the lowest in the group.

...
28.10.
Hewlett Packard Enterprise provides upbeat 2022 profit outlook, raises longer-term revenue growth view
...
Shares of Hewlett Packard Enterprise Co. rose 1.0% in afternoon trading Thursday, after the information technology company provided an upbeat earnings outlook for next year, and raised its longer-term revenue growth outlook.

The company said it expects 2022 adjusted earnings per share of $1.96 to $2.10, compared with the FactSet EPS consensus of $1.97. The company also said it expects to buy back at least $500 million worth of its stock in 2022, and pay out about $625 million in dividends.

Chief Executive Antonio Neri said at the company's virtual securities analyst meeting that there are three distinct trends that have gained traction as the world recovers from the COVID-19 pandemic:
1) explosion of data at the edge which requires secure connectivity;
2) the mandate for a cloud-everywhere experience; and
3) the need to quickly extract value from data to generate insights and build new business models.


The company raised its compound annual growth rate for revenue, for 2022 through 2024, to 2% to 4% from 1% to 3%.
...
https://www.marketwatch.com/story/hewlett-packard-enterprise…
Antwort auf Beitrag Nr.: 67.486.817 von faultcode am 17.03.21 00:50:22

26.7.

HP Enterprise Stock Is Rallying. It's a Tech Bargain, Analyst Says. https://www.marketwatch.com/articles/hp-enterprise-stock-tec…

...

Hewlett Packard Enterprise shares are getting a boost Monday from Evercore ISI analyst Amit Daryanani, who raised his rating on the stock to Outperform from In Line, while boosting his target price to $20 from $16. The new target price represents a potential gain of more than 40% from Friday's close at $14.10.
...
But as information-technology spending picks up, and the company's networking business in particular gains traction, the stock offers "multiple ways to win," as the analyst writes in a research report.

...

Top-line growth is muted—Daryanani sees revenue growth of just under 2% this year, to $27.6 billion, with a similar increase next year to $28.1 billion. But he sees profits jumping to $1.88 a share this year from $1.54 last year, reaching $2 a share in 2022.



And Daryanani thinks there is a path to reach profits of $2.90 a share, with more than $2 billion in annual free cash flow. If he's right, the stock trades for less than 5 times projected peak earnings—which makes it one of the cheapest tech stocks on the planet.



"We think HPE via a combination of organic tailwinds and self-help levers should see a path towards mid-teens [earnings and free cash flow] growth over next few years," he writes, asserting that the company is laying the groundwork for a stock price above $20. And Daryanani adds that a sum-of-the-parts calculation yields an upside scenario north of $30 a share.

The Evercore analyst says that the growth of HPE's $3 billion "intelligent edge" networking business in particular remains underappreciated, given double-digit growth and high teens operating margins—he thinks that the business can drive sustained multiple expansion.

...
es ist nicht mehr zu übersehen - hier und auch woanders (Cisco, Intel, HPQ) - "old Tech" hat ein Comeback: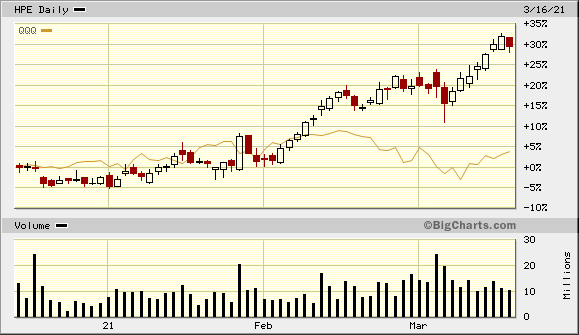 Hewlett Packard Enterprises